Dena and Millie get cozy.
Alex enjoys his first Sci-Fi Parathon.
Dena and Dudley celebrate at Upstairs on the Square.
Dena at Upstairs on the Square.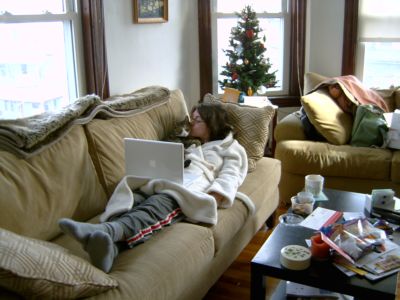 Mary and Millie snuggle up.
Mary and Christmas 2008 at the Terrace.
Dena ices some black-and-white cookies.
Dena survives the first meeting of SASS (The Somerville Anti-Salad Society).
Maki and Dudley check out the largest pumpkin of 2008.
Peggy discovers sheep at the Topsfield Fair.
The Cold Spring Harbor aging meeting, 2008 (Dudley, Angela, Mike, Sergiy, and Dena).
Nicole and Emily at Nicole's defense party.
Nicole's defense, June 2008.
Dudley and the parents at the hooding ceremony, June 2008.
David and Dudley at the hooding ceremony.
The Reeds have settled in well to their new home.
New Years 2007/08 at Reed Manor.
Nicole discovers the Joy of Canning.
Sci-Fi Parathon at the Greytak's, 2006.
Jon and Jess and Dudley at Newtowne.
Jon and Jess at Newtowne, December 2005.
Christmas (2005) at the Terrace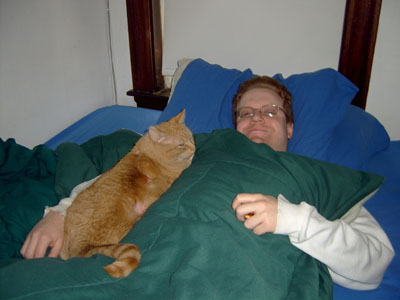 Chaucer and Dudley are sleepy.
Chaucer gets some belly time from Nicole.
Oliver and his rocket launcher.
A bus being towed, which I always find amusing. Lechmere Station.
The view down Oxford St, approaching Harvard.
A mysterious giant box in Porter Sq.
Nicole and her mom.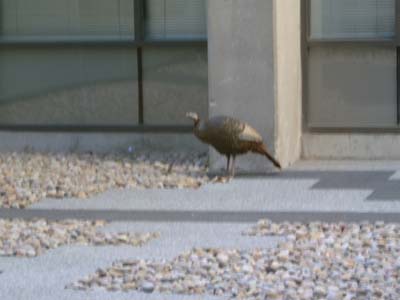 Wild turkey on the loose at work.
The 5west crew, New Year's Day, 2005.
Hil, Ed and I.
Andrew, Jon and Jess.
The Christmas season at the Fiesta Terrace.
Erik and Carly at Rockefeller Center, December 2004.
The evil Fox News Ticker.
Erik and Carly (aka Hannity and Colmes) across the street from the news ticker.
Carly and I at the Concorde, Intrepid Air and Space Museum.
Thanksgiving 2004, NYC.
Ed, Hil and I finishing the MegaMaze.
Ed and Hil at the David Megamaze.
Jessica is introduced to Boston.
Andrew, my freshman-year roommate, in his room senior year.
Carly, outside her room.
Erik, chilling on the hall.
Erin.
Hilary, back in her/Ed's dorm room.
Jessica, in my somewhat moved out of room.
Nicole and I, right after I got back from Sarah and Andrew's wedding.